Do you know a child who just won't shut up about bike trivia, and can't wait until they're old enough to ride? Feed their passion with these affordable gifts, all easily purchased on Amazon. The search terms are included rather than links, so that you can find the item no matter what country you're in while reading this!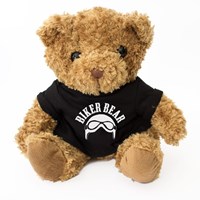 Biker bear. Pretty self explanatory! Suitable for ages 3+. And while we're on the subject of bears...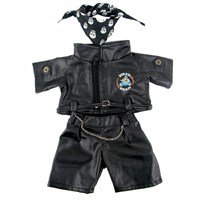 Biker bear skull scarf outfit. Faux leather outfit complete with bandana and wallet chain. This is perfect for build-a-bear fans!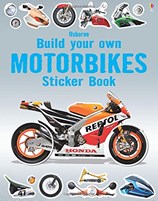 Build your own motorbike sticker book. This very cool Usborne book features 10 pages of stickers, for hours of fun designing the perfect bike. Children also learn about how bikes work in the fact boxes. The stickers are of real bike parts/brands!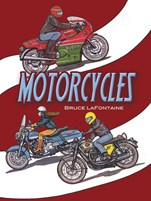 Dover motorcycle colouring book. Another activity book, this one from Dover, is actually more of a history lesson than colouring book- but don't tell the kids! Each image takes you through time to see the development of motorcycles- from as far back as 1885! You might want to read aloud or summarise the text for younger children, as it's a bit wordy.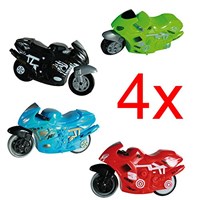 Pull back powered motorbike toys. There are loads of this type of toy available, but it might be best to buy a cheap multi-pack for 'racing'! (These work the same way as the toy cars you pull back and let go).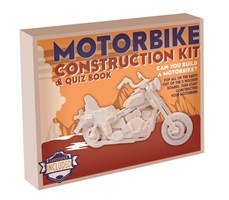 Motorbike construction kit- for older kids, or younger ones with capable adult helpers! Once this is completed (which in itself should take a few hours), you could simply put it on a shelf as it is, or spend some extra time painting it to get even more enjoyment out of the purchase. It also comes with a quiz book about the model.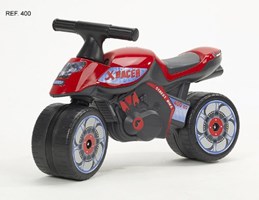 Ride on toy motorcycle- this particular one is the Falk Xrider 400. This kind of toy sells for between £20-£60, and is great for endless hours of imaginative play. To go a step further with it, you could create an obstacle course in your garden, or opt for an electric one if you like the idea.

Motorbike stickers. A simple sticker sheet is good for younger and older kids- especially if they keep a scrapbook, sticker book or journal. It would also make a great stocking filler, or gift to send in a card.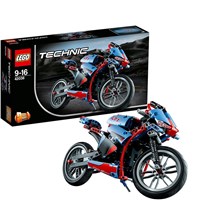 Lego Technic street motorcycle kit. Age 9+, this is a pretty fiddly kit, but as it's realistic, it should teach them a lot about how motorbikes actually work. At about £20-£30, you might want to keep an eye on them no matter how confident they are- a missing piece could be a disaster.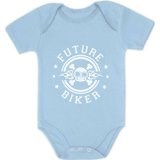 Future biker baby onesie. Ok, so these are more for the parents than the child itself...but imagine the photo of them wearing it in the family photo album! These come in pink, grey and blue.
Have we missed out on something obvious? Tell us about your favourite kids' biker gift in the comments below.
If your kid's just reached the age where they're looking to ride your bike, but you're not comfortable imagining them on your rickety old one, why not sell it for cash towards another at We Buy Any Bike?