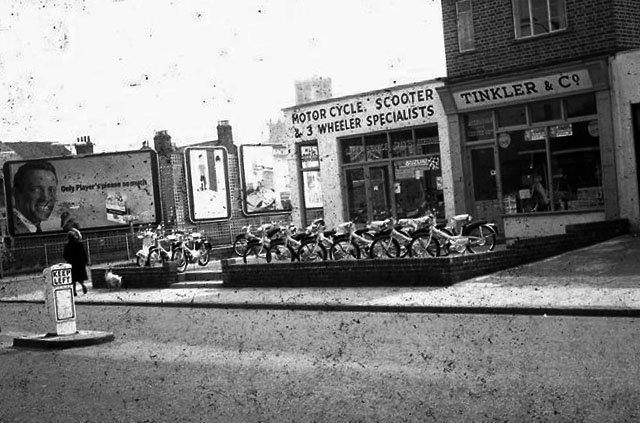 A simpler time. Back in the day, we were all used to things being done face to face. If you dealt with somebody in a shop, you knew if you were being dealt with honestly. Having a laugh and a joke was all part of doing the deal. And after a while, you got to know the chap at the dealership. You knew exactly where to go next time you needed their expertise.
That's just the way we do things at WeBuyAnyBike, updated for the modern age. How can anybody mean to say that they can put a motorbike valuation together without talking to the man who's owned it, ridden it and cherished it? For all the advancements in technology, they'll never be a computer in the world that can generate a quote for your bike that will truly reflect it's value. There are things that only sheer experience and talent can bring to the table. Unfortunately for some of our staff, that's grey hairs and wrinkles. But fortunately for you, that's a human-generated, accurate bike valuation. Every time. Guaranteed.
It used to be simply a matter of taking your bike down to the local dealer to have it appraised. You'd have a brew and a chat to make an afternoon of it, and the salesman would take a look over your bike with a discerning eye. He might have a leaf through a book on his desk, which is where we got the term "book value" - books like this aren't even produced any more. He might have seen three bikes similar to yours in the last week, or this might be the only one he's seen in his life. Whatever you've brought in, the expertise that his years in the trade bring to the table will give the best impression of your motorbike's value. If anything, it's a gut feeling more than a mathematical process. That's how deals and negotiations happened for hundreds of years. In the end, you may have made a friend out of it too.
Table of Contents
How it works
Our 3-step bike valuation process is famously simple. Our dedicated team handle hundreds of enquiries per day, and we are always available to assist. Over the years, we've refined everything about how we do business to make things quicker and easier for you. To start, we only need to know the minimum set of details about your motorbike. Then, we do the groundwork and market research behind the scenes. We do the heavy lifting for you, combining our extensive experience and the latest techniques to get an accurate valuation for your motorbike.
Step 1: Select your vehicle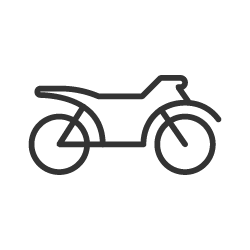 Use our dropdowns to choose your motorbike, starting with the year. Our year dropdowns go back to 1984 (A reg). If you require a valuation for a classic motorcycle any older than this, get in touch using our contact details. We will be able to provide you with a bespoke quote. After this, you will narrow down the selection of your motorbike by filling out the engine size, followed by the make and model. If your bike's make isn't in the list, select "Not in List" to view our list of less common makes. Finally, you will be asked for your motorbike's variant. Variant doesn't always have a significant impact on price, so if you don't know which one to choose, pick any. If you have it, you might want to check your owner's manual, especially if you own a sports bike with lots of options like a Honda CBR1000. Otherwise, if we do need to nail down the specific variant, we'll be in touch by phone.
Step 2: About your bike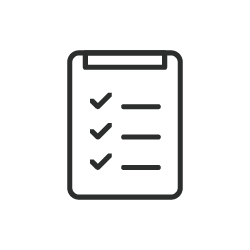 Add your mileage and condition, the bare minimum we need to value your bike accurately. This will give our valuations advisors the best impression of your bike and how it's been used.
Mileage: The average for a motorbike in the UK is 3000 miles per year, but for some makes and models, higher average mileages are normal. For example, bikes getting used as commuters, such as scooters, can be expected to do between 10 and 20 miles per day for five days per week. Some bikes may have a lower expected yearly mileage, like highly collectable bikes or tracked bikes. Our team take your bike's mileage into account, in combination with the other factors, to make a judgement as to your bike's mechanical and cosmetic condition.
Colour: An important, but often overlooked, factor when it comes to valuing your bike is the colour. Motorcycles come out of the factory with stock colours, and several premium colours are often made available as optional extras. There are also different types of coats, such as matt and gloss paint. As a consequence of this, specific models will become more desirable if they come in a particular colour. It will also affect your bike's value if it has had a colour change.
Service History: According to the Telegraph, having full service history can add almost a quarter of the value of a used vehicle. Having service history can be a considerable advantage - according to the same study, nearly a quarter of buyers will ignore a vehicle without any service history. Most bikes will come from new with a service book, at the bare minimum this will constitute some record of the motorbike's history. Garages will have placed stamps in the book, giving a record of any maintenance the bike has had. However, other forms of history can come in more useful to a future buyer, such as service receipts. When taken as a whole, we can build up a picture of how well the bike has been looked after using the service history.
Condition: We ask every biker to self-assess their bike's condition. The truth is that you will know your bike better than anybody else. We find that bikers build up a relationship with their rides over the years. What we try to do, and what we think makes our process so effective, is to get to the heart of that relationship and find out what makes the rider tick. We have to balance this need for information with the necessity that our online valuation form needs to be as easy to use as possible. For the most part then, the simple dropdown we have in place remains the best method for us to get a quick idea of your bike's condition.
Registration: We also ask for your bike's registration at this stage, as part of our manual background-checking process. Checking this against the DVLA register enables us to confirm your bike's make and model are correct.
Step 3: Your contact details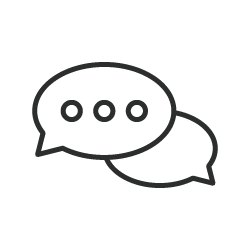 Each bike is individual, and each rider even more so. There are so many things which can affect a motorbike valuation that we believe in the personal touch before we can adequately assess the value of your bike. To proceed with our bespoke and manual service, we need to know a little more about you. The information we ask for is only to complete your valuation enquiry, and we will never contact you for any other reason.
Your phone number and email help us to get in touch when we have prepared your valuation. If we do need any more information about your bike we prefer to get in touch by phone, but email is suitable for most of what we do. Your postcode allows us to assess your bike's value based on your location. Buyers in the largest UK market of London and the South East do sometimes tend to offer a little more for the bikes.
Who will value my motorbike?
We have over 20 years of experience in the industry, and we think our team are some of the best. Every enquiry that goes through our company is looked over by one of our valuations advisors. This approach, which respects your bike as a one-off that deserves personal attention, is the best way to get a value for your motorbike that you can use.
Our experienced underwriters have a diverse background in biking and motorcycling, with many coming from the motorbike sales, insurance industry or finance sectors. Their expertise comes into the fore every day. They bring a passion for motorbikes to work, and you'll often hear a discussion of the Moto GP or TT in the office when it's the racing season.
Ashley at WeBuyAnyBike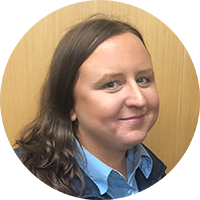 Ashley is part of our family, working in the valuations team and making offers to our customers. She started with the company in 2012 and returned in 2018 after a stint travelling in Australia and New Zealand. She is 100% committed to our family and extends this to our customers. She will honestly do her best when you are looking to sell a bike.
The most valuable motorbikes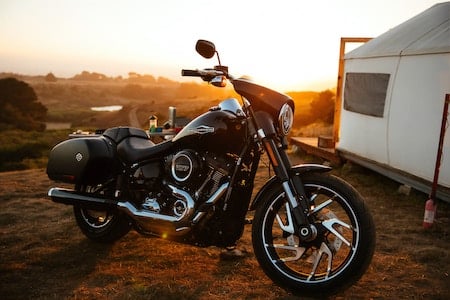 We performed an analysis on the vehicles we've purchased over the past ten years, and we crunched the numbers to find the most premium motorbike valuations on the planet. These bikes are the cream of the crop, often bought as investments or as cherished display pieces. Here are some of the brands which produce the most valuable motorcycles.
Brough Superior: These are some of the rarest, most valuable and highly collectable motorbikes we've ever purchased. The English brand creates 100% handmade motorcycles drawing on the heritage of the 100-year-old brand. The new Anniversary model comes in at €100,000 (£88,981) new
Hesketh: A brand manufacturing premium, hand-built British motorcycles in Daventry and Easton Neston. The Hesketh Sonnet is incredibly rare and has been sold for around £28,000 or $38,000 USD new
Norton: A British company originally based in Birmingham and founded just before the turn of the century. There's no doubt that Norton has bonafide credentials and are part of this country's motorcycling history. The new Norton V4 RR racer comes in at around £28,000 new.
Zero Motorcycles: This is a company based in California that manufactures electric motorcycles. The base model of their new bike, the SR/F, weighs in at around £15,500 new. They are expensive bikes, mostly due to being on the cutting-edge of technology and the cost to manufacture the high-capacity lithium-ion batteries needed to provide power.
What are the least valuable motorbikes?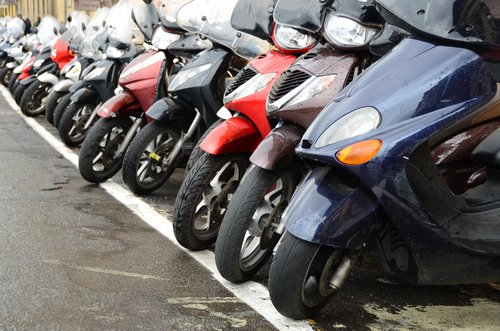 For the most part, these are our bread-and-butter. While a market for luxury motorcycles does exist - as we detailed above - for many, motorbikes are viewed only as an affordable and convenient form of transport. For that reason, the vast majority of motorcycles on Britain's roads are the scooters, mopeds and 125s favoured by commuters and casual bikers. The turnover for these bikes tends to be high. As new riders buy a 50cc at 16 to pass their CBT and then upgrade to a 125cc shortly after, there are lots of used mopeds on the market. As anybody who has supervised a 16-year-old knows, these bikes don't tend to get looked after particularly well.
There is a strong demand, therefore for cheap, entry-level bikes. This demand is filled mainly by factories in China that churn out generic models which are then rebadged by importers. Looking at the chart above, we can see a small segment of these brands in the "budget bikes" section. You will be familiar with many of these companies as they are based in Britain, such as Sinnis and Lexmoto. Some of the more prominent companies such as these will have sufficient clout with the Chinese manufacturers that they can afford a bit of customisation. Their bikes may not be exactly similar to the others produced by those factories.
We can't possibly list all of these rebadged brands here, so we've chosen a selection which represents the lower end of the market reasonably well. This part of the industry is a broad church, and not all of these bikes are necessarily bad. We recommend bikes such as these to many people. If you're looking for something that can get you from A to B or will help you start your motorcycling as a hobby, these bikes will do the job. Their low value often comes from the fact that they don't usually get serviced. Young or inexperienced riders may also drop or damage them often, leading to lots of these bikes being written off or stolen.
Lexmoto: A leading importer of Chinese bikes, Lexmoto has grown to become one of the most recognisable motorcycle brands in the UK. The bikes get imported by a company based in Exeter called Llexeter Ltd, who also supply Chinese motorcycle parts. Most of their models are under £2000 new with many under £1500.
Sinnis: Another UK based importer, sourcing their bikes from the Jinan Qingqi Motorcycle Company in China.
Rieju: A Spanish manufacturer serving the small-capacity market, established in 1942 as a bicycle company. 50cc Rieju's are very popular in the UK, as are their 50cc dirt and trials bikes
Keeway: Another rebrand of Chinese manufactured motorcycles for the UK
Motorbike value over time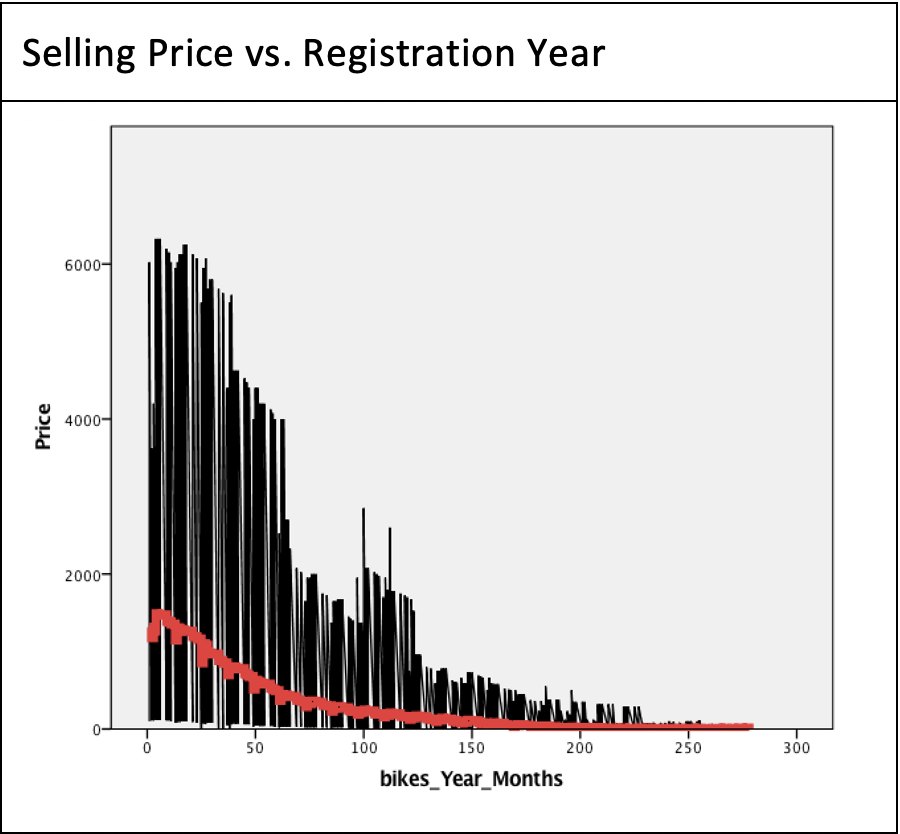 As with any asset, motorcycle value does depreciate over time. You can expect to lose the most money on your bike within the first three years of registration, with the pace of loss dropping off sharply after that. But not all bikes lose value at the same rate, and some can appreciate, especially classics.
To help stop confusion in this important topic, we looked at the data for vehicles we've valued over the past ten years to find out how motorbikes lose their value over time. Based on our data, we can draw some important conclusions that might affect how you think about the value of your motorcycle going forward.
This graph makes the relationship between the selling price and registration year quite clear, with motorbikes losing most of their value within the first 50 months. We found that after this, the depreciation of the motorbike year on year started to reduce.
Additionally, it seems that the value of motorcycles that were cheaper to start with will fall off more quickly. Conversely, bikes that are dearer at the start of their lives hold more of their value for longer.
It's worth noting that in this data we assumed that the mileage of the vehicle per year would be the UK average of 3000 miles per year. But how would mileage affect the value of the bike overall? We ran our data through an algorithm that shows how important each factor is to affect the price of a used motorcycle.
We found that even though mileage does affect the selling price of a bike, the year of registration is much more significant. This may reflect some bias on the part of buyers or sellers. The age of a bike may bear down stronger in people's minds than the effect of mileage, which is much more variable.
Seasonal Variation in Motorbike Price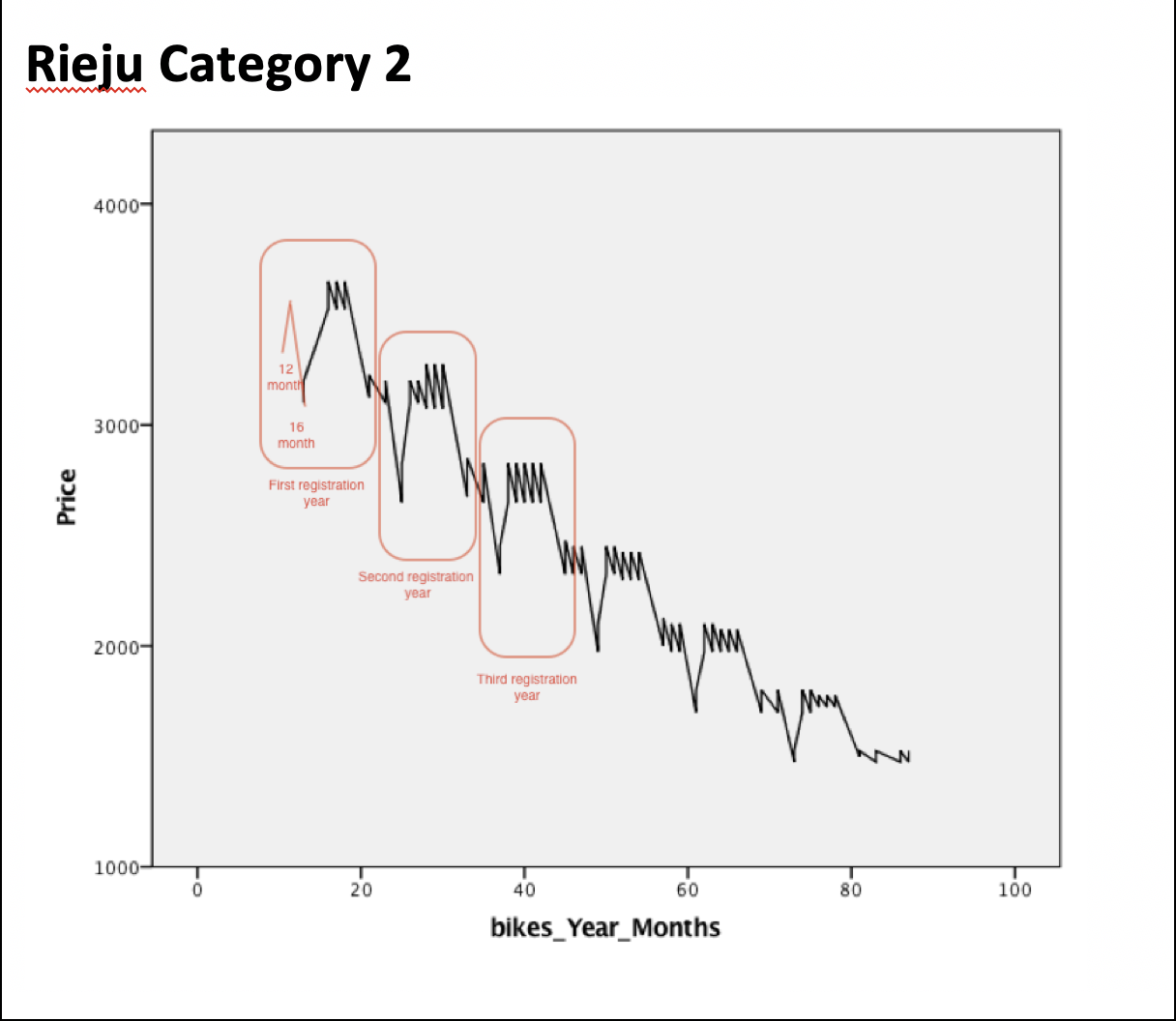 We also found by looking at our data that there is some significant seasonal variation in motorbike valuations. Prices appear to be performing much stronger at the beginning of each registration year. If you're looking to sell your bike in the summer, you're likely to receive a better price than if you were selling it in the winter.
The market is stronger in summer since people tend to buy bikes during the fair weather for riding. By contrast, more people want to sell in the winter, meaning the market becomes saturated.
Motorbike valuations with finance
If you have outstanding finance on your bike, you may be worried if this will affect your valuation. The good news is that for our purposes, it certainly won't. We only value the asset, in other words, the metal, so if there is any outstanding finance attached, we don't take this into account. We generally consult HPI for vehicles that come to us when we're doing our background checks. HPI (standing for Hire Purchase Information) is a nationwide register with a record for every vehicle, whether bike or car, which has outstanding finance.
By checking the HPI register, we will be able to tell whether the vehicle has finance outstanding or not. Whatever the case, it won't have any bearing on the valuation we give. We can't see how much is outstanding, only whether there is finance or not.
If you do come to sell the bike, whether to us or otherwise, you will need to clear the outstanding finance. This is part of the agreement between yourself and the finance company. When you're selling the bike, you'll need to subtract the value of the outstanding finance from your motorbike valuation. If not much time has passed since the start of the finance agreement, it could be the case that the amount of outstanding finance surpasses the value of your bike. In this case, the difference is called negative equity. You will need to make up this up by paying the finance company what they say you owe (your settlement figure).
Motorbike valuations for insurance write-offs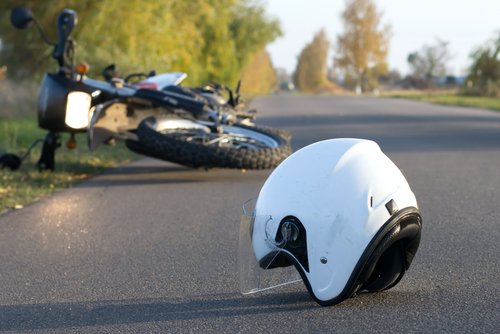 Around 384,000 vehicles are written off in the UK per year, which equates to 1 every 90 seconds. For motorcycles, it's still quite common to see total write-offs despite safety features becoming more prevalent, such as ABS and traction control. Lots of second-hand bikes on the market are Cat C or D write-offs that have been repaired, and it's possible to find bargains among these bikes. In some cases, you might make money on them. All of this muddies the waters in terms of insurance write-offs. As a general rule, you can assume that if the bike is an insurance write-off, the value will be lower than if the bike had never been written off. Category A and B bikes are not suitable for resale as a whole, however.
Category A write-offs: These bikes are classified as scrap only, and must be destroyed by crushing. These bikes have been involved in the most severe accidents, and the frame will have been damaged by bending or twisting. Bikes that have been damaged by fire or corrosive chemicals also fall into this category. The value of these bikes will be for scrap weigh-in, which for your standard motorbike frame can be anywhere from £20-£50.
Category B write-offs: These bikes are classified as having significant damage that would be unsafe to put back on the road. There may, however, still be parts salvageable for further use. These parts may be removed and sold before the vehicle is put back on the road. If you break the bike yourself, you may be able to earn an extra few quid by selling the parts on eBay. Generally, these bikes will fetch anywhere from £50-£100, depending on which components are still salvageable. If there are engine parts, this can be significantly more.
Category S write-offs (previously category C): This category is for bikes which are structurally damaged but repairable. These bikes may one day be put back on the road. The insurance company will categorise bikes as "S" if the bike is too damaged to be fixed by their own in-house or contracted repairer. You may see that the bike loses anywhere from 25%-50% of its original value due to the damage.
Category N write-offs (previously category D): These bikes are not structurally damaged, for example, they may have only received cosmetic damage to the fairings. Repair will be needed before they will be considered safe enough to put back on the road. The insurance company may be able to do the repairs themselves. These bikes can be expected only to lose 10%-20% of their original value.
We do buy bikes that have been written off in the past, and our team collect bikes nationwide. With bikes such as these, we do check the cap HPI register as part of our background checks, which will reveal the write-off category as well as other information from the insurance company. We factor this information in when we're preparing our motorbike valuation and seek to offer you a fair valuation in this case. Our valuation may be higher if the bike has been professionally repaired.
How can aftermarket parts affect the valuation?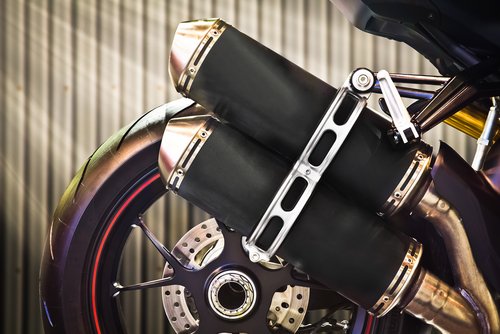 Motorcycling is a lifetime hobby, and lots of riders enjoy modifying and upgrading their bikes. From exhaust systems to panniers, to quickshifters, heated grips, engine bars and crash bungs, there are a staggering amount of aftermarket extras available. Bikes become incredibly personalised and adapted to each rider over the years of use, and this means that in the second-hand market most bikes have been modified in some way.
As many bikers will discover with some degree of sickness when looking at their credit card statements, aftermarket parts are incredibly expensive. When it comes to selling the bike or getting a valuation, you might expect this to increase the value of the bike. However, it doesn't always work out this way. In some cases, aftermarket parts can decrease the value of the bike.
If your bike has an aftermarket exhaust system, this is generally something which buyers will appreciate, and this can increase the value. Check if it is a full system, if it's been professionally fitted, and is from a reputable brand such as Yoshimura or Arrow.
Panniers are also an aftermarket accessory which will reliably increase the value of your bike, especially if it's an adventure or touring model. Buyers of these sorts of bikes will usually want a bike with panniers fitted. If you have panniers from the original manufacturer of the bike, this can add hundreds of pounds of value to the vehicle.
Unfortunately, other than these two items, it's likely you'll lose money on your investment in aftermarket accessories. It's rare to recoup the funds you spent on other sorts of accessories such as heated grips when it comes to selling the bike. You should adopt the state of mind that those products were fitted for your enjoyment, not for the next buyer.
Will where I live affect the valuation?
When we give valuations, we want to provide as accurate and impartial a number as possible. For this reason, we don't take your location into account. We operate nationwide, and even if we end up buying your bike, we won't change the value based on where you live.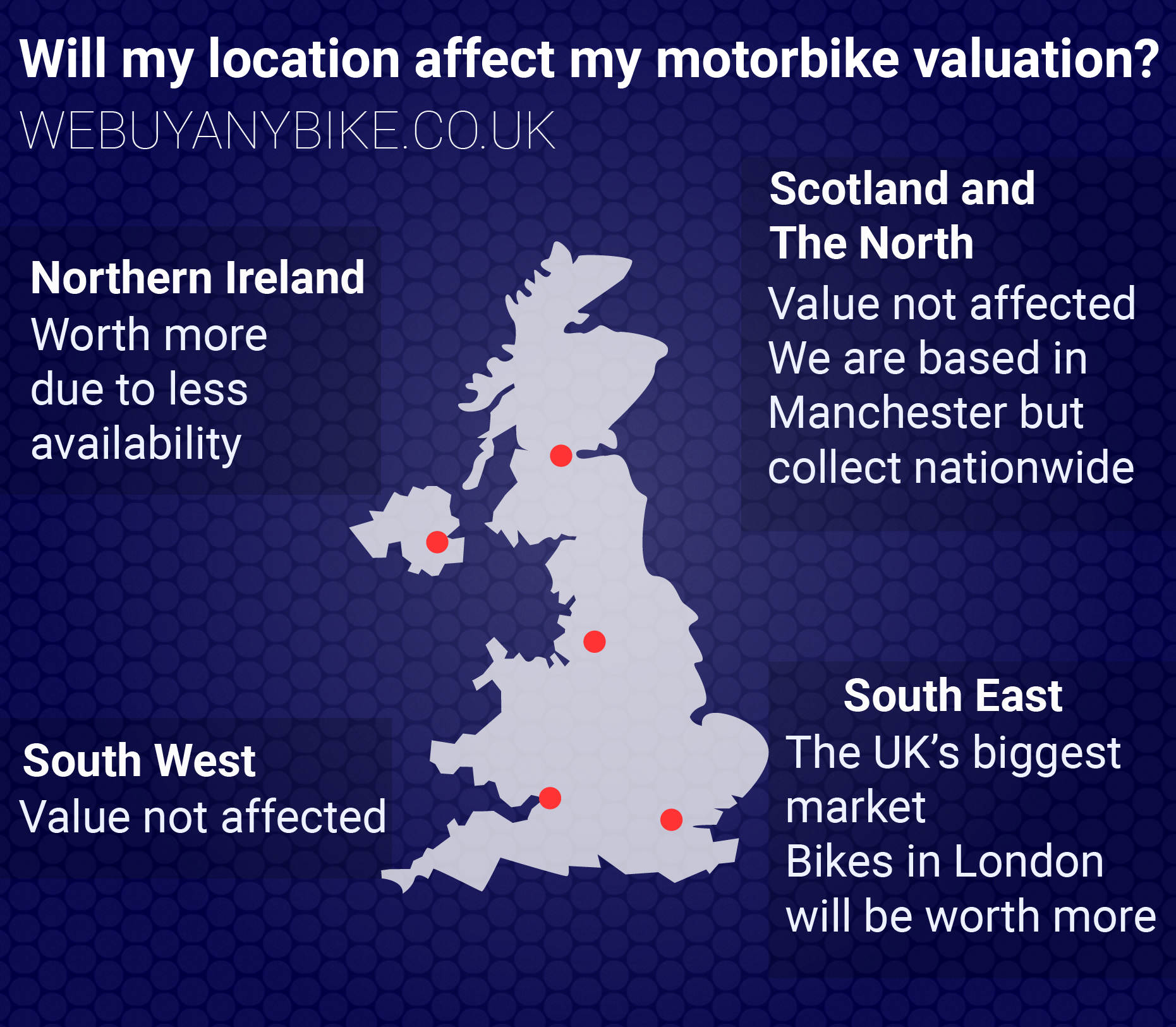 That being said, when it comes to selling your motorbike, you may find that quotes from dealers and private buyers vary wildly depending on your location in the country. Demand for bikes across the UK is relatively uniform, but in the below two areas you'll find that your bike will perform more strongly:
London and the South East: This is the UK's biggest market and has a strong demand for used motorcycles. Scooter and mopeds are currently experiencing a significant surge in value due to the demand from Uber Eats and Deliveroo riders. You'll find that your bike will not only have more buyers lining up, but it may be worth more too.
Northern Ireland: The market for used bikes and cars, in general, is a little cooler, and imports of new vehicles aren't as prevalent. If your bike is a premium model, it will bring more in Northern Ireland. Lots of residents here purchase their bikes from the mainland UK since they struggle to find the model they want closer to home. They then have the bike delivered to Holyhead or Liverpool docks for transportation by ferry to Belfast.
Conclusion
For whatever reason you're looking for your motorbike valuation, at WeBuyAnyBike we have you covered. Remember, our friendly and expert team are always available to help, give us a call, and we can advise you on how best to carry out your valuation. And when it comes to selling, we also buy bikes and collect for free nationwide.