Who will buy my bike?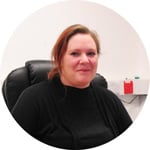 Nicole - Customer Service
Nicole and the rest of our expert customer service team ensure that all information needed to help you sell your bike is passed on to our buying team, to help you get the very best possible price for your baby.
No stone is left unturned, as if we miss information you may miss out on a good offer.
Attention to detail and patience is Nicole's forte!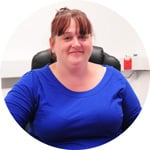 Dawn - Valuations Advisor
Dawn is experienced in customer liaison and relations. She has the job of fighting your corner with our buyers, getting them to put their hands in their pockets and dig as deep as they can.
Aside from tipping the buyers upside-down by their ankles, you can rest assured that she won't give up until the buyer shuts his purse - she's not happy unless everyone else is happy.
She's well known in the office for making us all feel happy to be at work with her good-hearted and warm spirit.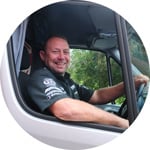 Graham - Collections Driver
Graham's been with us for us for over 10 years. He's a true original, genuine through and through!
Everyone who is lucky enough to meet Graham always gives us the great feedback which we built our reputation on.
Graham will ensure you have a date and time to suit, even staying out overnight in his purpose-built van. He will give advice and good honest service in a truly professional manner.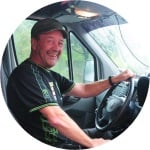 Brian - Collections Driver
Meet Brian, another of our top drivers.
With a great sense of humour and a passion for the service he delivers, Brian will go the extra mile when collecting or delivering your motorbike, making sure you are happy with the webuyanybike.co.uk experience.
And to top it off, Brian is everyone's friend and gives top advice, too.
How Do You Value My Bike?
To value your bike we take into consideration all the details you have given when completing our online bike valuation form. To achieve a more accurate bike valuation remember to enter as much information as possible about your bike's spec, condition and additional after market extras etc. When we have this information we use established industry guides, as well as looking at the current market value of bikes similar in spec to yours and looking at our own up to date, in house Bike Valuation Data. This way we are able to combine all these sources to acquire the most accurate motorbike valuation. It is important to enter your contact details correctly as we may call you back to buy your motorbike if you are ready to sell.
Do You Value Cars?
Unfortunately at the moment we do not value cars, but if you are looking to part exchange your car for a bike then we can recommend SoManyBikes.com who will value your car online.
Do you buy scooters?
Absolutely! We are more than happy to value and purchase scooters. Our online valuation form should be able to handle the majority of scooter makes and models. If you run into any difficulties getting a scooter valuation please contact a member of our team who will be happy to value your scooter.
Why Should I Sell My Bike to WeBuyAnyBike?
Why Should I Sell My Bike to WeBuyAnyBike? We are the leading buyer of motorbikes in the UK, we have over 20 years experience in the industry and always commit to giving you the best possible service and price for your bike. By using us to buy your bike we can help you to avoid advertising costs, strangers coming to view your bike for sale and prolonged time on the market. By choosing us you can do away with any hassle and worry. We will buy your bike and you can receive payment instantly. Simple and effective. So if you're ready to sell your bike then click here.
What Does The Site Do?
WeBuyAnyBike.co.uk has been created to help you to sell your bike, any make, any model, any age, any condition, we are happy to help. If you need to sell your bike, it's a good idea to find the value of a motorbike first. We offer a Free Online Bike Valuation Service so you have a general idea of what your bike is worth, before you sell. We buy any bike have been buying motorcycles throughout the UK for many years with the help of our existing motorcycle sellers. We are a tailor made service for you to sell a motorbike and value a motorbike at the same time! After submitting your motorbike details online and leaving your contact details, our dedicated team of bike enthusiasts look at your motorbike for sale and we will contact you to discuss a selling price. If you are happy, we are happy and the process can move forward to the next stage.
Why Can't I Find My Bike On The System?
Sorry you can't find your bike on our system! Have you clicked on the "Not In List" option on our valuation form, as this will open another list for you to select from. If so, please don't leave us yet, we do still want to value your motorbike! Sometimes a bike won't be on our system if this is the case, you can search for your bike by entering your registration number, just Click Here. We are able to give a value for most bikes. If you can't find your bike on our site this is possibly because: Your motorbike is more than 25 years old Your motorbike is an import or our site may be experiencing problems, If your bike comes under any of these categories don't worry you can contact us via email with your contact details and one of our team will get back to you within 24 hours.
Can I Keep My Private Registration When You Buy?
Yes! All you will need to do is to put your Private Registration Plate onto a retention certificate so you can sell it seperately or assign it to a new vehicle at a later date. To find out how to do this contact the DVLA here or visit your local DVLA office.
I Didn't Enter All My Bikes Details, What Now?
The value you receive for your motorbike is based on the details that you enter. It is important to describe your motorbike exactly as it is, we value your bike based on this information, this would lead to misleading bike valuations being offered. Putting the correct details in at the start saves a lot of time when you sell your motorbike, we do check all information by telephone contact before we commit to an offer. It's not a problem though you can always log back into your valuation online and update your details or email us at valuations@webuyanybike.co.uk
Why Do You Need My Personal Information?
We need some of your personal information such as email and telephone number so we can get your bike value back to you. We do not pass your details to any third parties, unless we have your prior consent to do so. We are committed to ensuring that your information is secure. In order to prevent unauthorized access or disclosure we have put in place suitable physical, electronic and managerial procedures to safeguard and secure the information we collect online.
It's Not Working
Sorry you seem to be having problems, please send us your problems in via email so we can ask our site manager to take a look and repair your user experience or phone us 7 days a week on 0330 127 9150. It really helps us a lot if you can tell us of any trouble you may have when visiting WeBuyAnyBike.co.uk so we can fix it immediately.
Why Did You Not Offer To Buy My Bike?
After entering your details online we give you an accurate used bike value, or in some cases if the offer we would make is considerably less than the price you will achieve privately, we would rather offer good honest advice on a price for you to sell your bike privately. We can however offer both trade and private prices upon request, so if you do still want to sell your bike to us, then simply give us a call on 0330 127 9150.