Reflective studs are increasingly being used on high-speed motorways and busy carriageways especially in poorly lit areas to allow easy visibility of the various lane demarcations. Also known as cat's eyes, these road studs were recently introduced in almost all standard roads around the world. Before then, they were a reserve of only grade A stretches of tarmac. That being said, due to the increased usage and popularity of these markings, it is important for all avid bikers to have a good idea of the different colours that these reflective studs utilise and what they stand for. Here's why;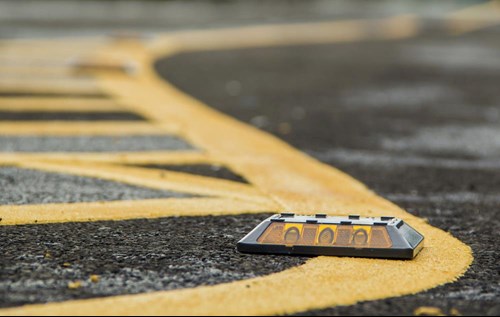 1. Red Cat's Eyes Studs are a Sign that Ought to Slow Down

Red motorway reflective studs are typically places along the shoulder of both dual carriageways and motorways. They are a good way of telling when you're about to veer off the road especially on a poorly hill crest. There's no denying that a good number of bikers have had near-fatal accidents in the past after unknowing mistaking a lane extension for a junction when driving after dusk.
2. Amber Studs Can Save From Colliding with other Incoming Vehicles

These studs, just like red reflective cat eyes are placed on the bank of the road. Single handedly, it is estimated that amber reflective studs have prevented more accidental deaths of riders that all other cat's eye studs combined.
3. Green Studs Tells When to Keep Going

So you're not sure if to take to a hard right or to keep going? The knowledge that green motorway studs are conventionally found on a motorway slip road can save you a lot of time that would otherwise be spent riding around trying to locate your lane.
4. Blue Studs Gives You Tactile Feedback of the Presence of an Emergency Lane

Blue markings on the tarmac ought to signify the presence of a reserved lane/ stretch of tarmac that can be used by fire hydrants or municipal water trucks. Can also come in handy if you have to urgently leave the road and park for a few minutes without necessarily inconveniencing other road users.
5. White Studs Serve the Same Purpose as a Bike's Lane-keeping Assist Technology

If you don't own a high-end superbike fitted with lane-keeping assist technology, white reflective studs can help you stay in your lane, literally. They are found in between the major lanes of busy motors and dual carriageways. And given their lighter tone, there are easy to keep up with without losing focus on the road.